Centaur tattoo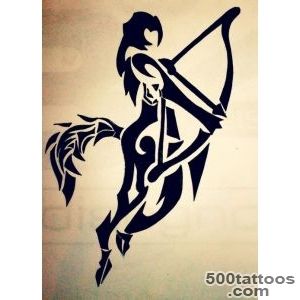 Quite unusual , rare , but nevertheless catchy and original tattoo depicting a centaur , not go unnoticed on large surfaces of the body - the back, chest , shoulder , arms or blades . This tattoo is often found in those born under the sign of Sagittarius , the centaur in fact , releasing an arrow from a bow ,It is the symbol of the zodiac sign .
Centaur - a supernatural creature with a horse 's body and a human head - a symbol , came from Greek mythology . A man's wisdom is interwoven in it with animal instincts , which inevitably leads to a deep conflict between the two opposites .In Christianity, the centaurs were regarded as negative characters , personifying heresy , drunkenness and wild life .
In the Vedic myths , on the other hand , the centaurs were associated with these soldiers - brave , courageous , strong and wise . Meaning tattoo centaur - a sense of adventure , a thirst for human freedom, independence ,the desire to do all that I want , regardless of anyone around.
Centaur tattoo designs and images