Color tattoos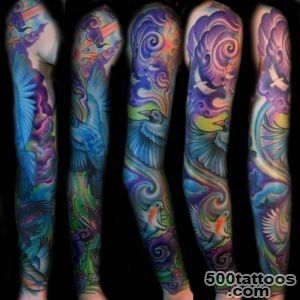 Colored tattoos appeared in Europe in the late 19th century and came from Japan . At that time, European fashion pounced on everything east . The main characters of Japanese tattoos have gained popularity back then, and remain so to this day. That's the dragons , tigers , flowers and fish . Tattoos of different colors were applied to the arms, neck , legs ,and sometimes the whole body , it looks pretty nice , though, and extravagant. Colored tattoos generally prefers fine half . Application of colored tattoos , as well as black and white , start with a sketch . But for color tattoos as opposed to black and white , there are a number of subtleties and features that should be considered a master .It is about the size of plot ratios and tattoos , where it will be applied . Namely , whether the size of the picture selected colors . If selected for the application of the hand , the arm's length image must be clearly visible. Colored tattoos have their own characteristics as well when choosing colors . The contour of the tattoo ,as a rule, the black or gray paint , and the drawing - yellow , blue, light red or orange paint .
Rich and dark colors are rarely used in small amounts , such as the color associated with blood and it does not look aesthetically pleasing. Colored tattoos are applied exclusively passed strict control paints .High purity pigment , combined with its oxygen treatment leads to rapid healing in the treatment zone . For color tattoo ink is used , consisting of a diluent and pigment. The pigment in the skin is evenly distributed diluent. As a diluent , most commonly used distilled water,ethyl alcohol, Listerine , propylene glycol . Allergic reactions tend to be extremely rare for color tattoos.
colored tattoo
Colored tattoos are applied with needles on the body . When applying circuit using special needles. They are called Ones . This three -set to each other tightly needle .They applied a very thin and clear outline. For painting the background using a bundle of seven or eight needles , which are called the background . The black paint is used for the circuit . But when the idea of the artist requires a different color scheme , the black paint whitewash is diluted to achieve the effect of transparency and grayish color .Sometimes the path is applied and colored inks .
Colored tattoos compared to black - white have only one drawback . It lies in the fact that such tattoos fade over time . This usually occurs after five to six years after application. Faded tattoos need to be updated , having painted over or to the old drawing to add new elements .But while blanching the tattoo depends on the skin type and can vary . In some cases, the tattoo is kept perfectly and ten years. But you can not update the tattoo and leave as is.
Today colored tattoos are very popular . On their bodies they are applied actors, singers , athletes and other celebrities . If the tattoo is done correctly,it emphasizes the dignity of the body , but which it is made , and sometimes to improve it. But we must remember that we should very carefully select the pattern , since then you can regret it clear that the meaning of the tattoo has a strong contrast to what was originally intended . Yes, and applied itself should be well thought tattoosince then its output would be expensive and very painful.
Color - an important component of the tattoo . After all the color we can learn a little about the man . So , what color he chooses and how to perceive , formed in early childhood. Different people perceive colors differently, they all have their parallels . For example, weWe perceive them as follows: Pink - love , green - nature , blue - sadness , yellow - joy , red - anger , etc.
Tattoos people make is not for fun - they are trying to tell a little about themselves, discover a piece of the soul . Of course, if a person will stuff a tattoo of a wrong color , it will not be a problem ,because it depends not only on the color preferences , but also on the type of the most tattoos . Of course, this article will help you with the choice of color, but still should not be taken very seriously said . It all depends on your desires : tattoo can be black and white or color , and can only consist of loops. So take it easy .
Color tattoos designs and images