Elephant tattoo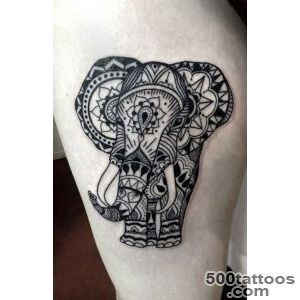 In our culture, tattoo elephant infrequent, it is more common in Asia and Africa, where people are constantly interacting with these animals. They have a sacred and revered animal.
Image of an elephant is always closely connected with the sacred deities. In India,China and Africa animal elephant symbolizes great power and kingship. It represents strength, loyalty, longevity and wisdom, always to the same person serves as an assistant. If a majority of Europeans it may be associated with brutality and clumsiness due to its large size,this is only a misunderstanding of the true greatness of this animal.
Meaning tattoo with an elephant - is brute force, power and subjection to man. This is a very wise and powerful force from which it becomes calmer. There is an ancient Hindu legend, which tells the story of the elephants, which could once fly, but izthe curse had been deprived of this heavenly gift.
Thais have, in addition to the wisdom and majesty, the elephant symbolizes fertility and rain. In mythology, these animals are permanently accompanied by Indra, the god of thunder and rain. In India, important rulers rode on elephants, as only he could entrust his precious life.
In medieval Europe, it was a strange belief,associated with a majestic elephant. People believed that the period of gestation of a baby elephant, as it lasts more than six years old, male and female refused sexual intercourse. Therefore, the mammal was ascribed to the noble qualities, such as love and chastity.
Tattoo Elephant fit man already grown,who is confident and held in life as a person, also has a quiet and balanced character. Such men can say " to him like a stone wall." Since it is quite a serious character, a thumbnail must be thought out to the smallest moments and details.Another important significance of this tattoo - a victory over their evil passions.
Hindus mighty elephant - it is the incarnation of the god Ganesha, the god is depicted with the head of the animal. In Ganesha is depicted in the hands of the trunk symbolizing that he was able to overcome and to calm their passions. This tattoo is ideal for peoplewho know how to control their emotions and strictly control himself.
Special importance is the image of a white elephant. This is a rare animal - a sign of high spiritual power and secret knowledge. According to Buddhist legend, Queen Maya saw in his dream baby white elephant that seemed entered into it.After she became pregnant and gave birth to a boy, who later became Buddha. Since then the elephant represent a universal love, compassion and good-natured.
Elephant tattoo designs and images