Gangster tattoos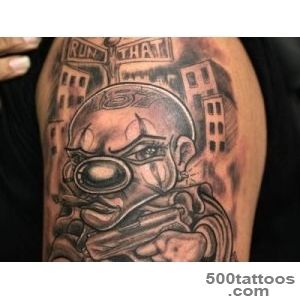 Bandit and gang tattoos can often see these days. As a rule, these are young people who have served time in prison, or consider themselves to certain groups.
Gangster tattoos originated in Japan, where each man released from prison was to apply a tattoo to distinguish it from other citizens.Tattoos are a kind of stigma, shame to former criminals because of their past.
Now, these tattoos are often a symbol of pride and gone through a difficult experience in the past.
There is a certain set of patterns that are used in gang tattoos - a star, tears, cobwebs, graffiti,point between the fingers for each year of Sidqi.
The main function of gang tattoos - this identification, each gang has its own symbol, which is human life and emphasizes its dedication.
Not only gangs inflict various tattoos, but also bikers, circus, Roma also applied to specific characters.Gangsters tattooed to show their hardness, strength and courage, so they may be, and an ordinary person, not necessarily commit a crime.
Gangster tattoos designs and images