Giraffe tattoos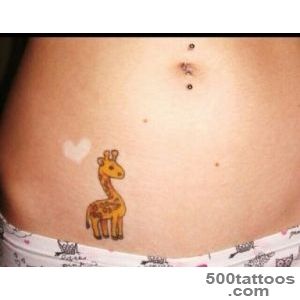 Even in Africa, the giraffe is a respected and revered animal, a symbol of good luck, wealth, happiness, vision and well-being. It was believed that the person who chose the giraffe as their totem with a distinct sense of dignity, kindness and sensitivity, was a personality quite independent,but he did not neglect the care of relatives and friends.
Europeans find it a little strange magnificent animal, for them it is not a typical representative of the animal kingdom. It is enough that previously in the Russian language, he was not the male and female gender, that influenced the choice of many women is a giraffe as his personal mascot.After all, it means that one or the other woman feels beautiful, always want to be visible and bright, positive and extraordinary. She always takes care of loved ones and become a reliable defender of the family hearth.
Meaning tattoo giraffe is very wide and describes the people as individuals unconventional, open, cheerful and optimistic. After being a bit clumsy animal, the giraffe with a very graceful and elegant.
It is also important that the tattoo of a giraffe always help in situations where you want to show of flexibility, sense of dignity and nobility. Depicting a giraffe on your body, you are to attract luck, money, and will find a pretty strong amulet.
Giraffe tattoos designs and images