Heart tattoo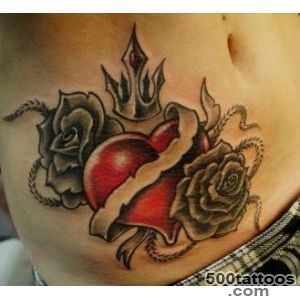 Always heart tattoo symbolize romance and love, and to this day this motif does not lose its relevance and popularity. The image of the heart is for everyone the importance, but it is always associated with the feelings of the owner. Heart drawn sketches in different styles, and sometimes common interpretation is quite different.Even in ancient times people have come to the conclusion that the body the heart, it is not easy mechanism for pumping blood to the body. Heart helps a person to feel, to make final decisions and that it is the source of all emotions that one experiences.
The most popular by far, sketch, showing the heart, framed kakoy-the inscription. Most often it is the name of a loved one or loved one. In the second half of the XX century among the sailors and bikers it has become very common image of the heart with the word "mother". And during the 2nd World War, the soldiers drew hearts in memory of the families left behind, also drawing symbolized love for their homeland, for which they are willing to die.
Tattoo heart around, which shows the crown of thorns for Christians a symbol of suffering and pain encountered Jesus for the redemption of human sins. Catholics each year marks the Day of the Sacred Heart of Christ.
Basically tattoo value depends on its parts. For example,heart with wings associated with the flight of the world in the name of infinite love, in the name of pure and sincere love. A broken heart - a symbol of the lost and broken love, and disappointment in this sense, it is made by people who once lost his beloved, and now can not forget about it.The heart of the picture together with a sword and arrows represents courage and bravery. In the Middle Ages, this figure could often be found on the Knights, who are involved in the Crusades.
When shown the heart pierced by the sword, which means that there was cheating or emotional trauma inflicted a loved one.If a heart pierced by an arrow through it denotes a pleasant torment of suffering love.
Sometimes the colors are for a meaning. White heart is a symbol of caring for ailing man. Golden Heart symbolizes the love for God and loyalty to him in his heart. Black heart almost always means a great loss,associated with feelings of love.
Heart tattoo designs and images