Lettering tattoos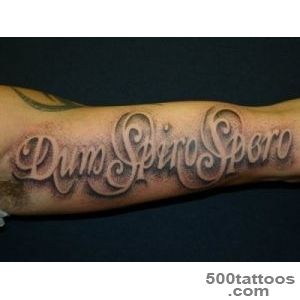 Today there are so many different tattoos. Each to his taste can choose what it will seem like the most suitable to him. Most often it is a tattoo in the form of some characters or images , which are very clearly and emphasize the original style and personality of its owner.Recently, no less popular are tattoos lettering . This is understandable and predictable , since words can often transmit much more than an image ( even if it is the brightest and most beautiful ) . Such a decision is not seldom used as an alternative , if a person has the desire to express something more , something that ,for example, can not do any drawing .
The most common tattoo inscription people make for some very special and personal reasons. For example, they can symbolize the loss of dear and very close person ( including family members ) . Thus , they can be devoted to the specific characteristics of a person , or simply to express somethingsomething very dear to your heart , or to characterize your style and state of mind.
The image can contain a thousand words, but it happens sometimes that some well -chosen phrase or a few words can express much more. Each of us remembers the exact place and time , when someone very close to us then ,timid and shy at first said the words : " I love you." Everyone remembers a special reverent feeling in my heart at that moment , the experience and okrylenie . Sometimes a single phrase can express a variety of emotions .
Tattoo with the image of the heart - is one thing , but the inscription on it , or on a ribbon around: " Mom and Dad " - is quite another .With these words, the tattoo is raised a notch up .
For a long time people use tattoos inscribed . There was a long period when the most popular tattoos were inscriptions with the words Love , Hope, Pain , Hate on the fingers .
Political prisoners often make a tattoo with the expressions on his body ,this is the only form of protest . Generally , all prisoners make a tattoo with the words that they are most worried about whether they have a special tattoo timeline or place of his release .
Popular are also inscriptions in the form of verses from the Bible .
Buddhists used tattoos as Buddhist texts - the spiritual truthsacting as a protection against evil.
At David Beckham and Angelina Jolie have sacred texts on the body. Some celebrities to taste a tattoo in the form of an inscription in Latin. Some prefer the words of the songs of famous musicians .
Since the prayer contained a higher meaning , these tattoos do high on the body.Also, except for the semantic aspect in these tattoos is very important font type and size .
Some sects of India opened to each of the participant put on the body of Hindu texts , on every part of the body , and even in the mouth. This is to protect themselves from evil . In Japan, the film Ghost was created as somethingwhere the young monk's whole body was covered with tattooed with sacred Buddhist texts , but one ear . And, as luck would have it , it is the ear enters an evil spirit .
If you want to put on your body is a scripture in a foreign language , be sure to check its meaning . In Islam, it is forbidden to put images of some animals , but , of course ,Tattoo lovers find another way and form the text in the form of an animal - a fish , a bird , or an elephant . This is called zoomorphic calligraphy .
Very popular tattoo inscriptions in foreign languages ​​, especially the demand for the Japanese and Chinese characters. Often, however, there are also languages ​​such as French, Spanish , Persian , Sanskrit,Latin.
To give greater weight to the tattoo or to highlight the significance of the inscription , often they are made within the image strip or scroll. A particularly important role it plays in creating a memorial tattoo , which may contain full names or dates.
There is another way to make a more unique tattooThis creative use of fonts. You can depict lettering in handwritten form on the Gothic or Old English , it all depends on the imagination and skills of the master.
Lettering tattoos designs and images