Peacock tattoo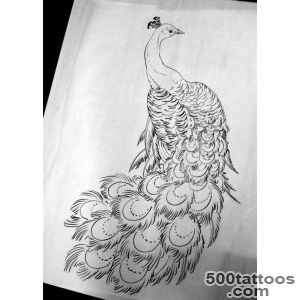 Peacocks are very beautiful and noble birds . That is why they have all the time been associated with beauty, nobility , wealth , grandeur and regality . It is very bright and sunny character , it is often used to impersonate the Sun itself . In addition , the peacock also means immortality, longevity , glory ,diversity and even love in the most romantic of its manifestation.
These birds are always on the bright side of life, they fit cheerful , prompt and striving for self-realization to people . Peacock as a tattoo has meaning only light and good . Sometimes the parts are considered , such as the peacock 's tail or a peacock feather .This character bears an interesting symbolic and semantic content , like a peacock .
In addition , the ancient Greeks perceived the tail of the peacock as a symbol of the sky , which is decorated with stars , because the tails of peacocks are very beautiful and mysterious . If we take Buddhism, there a fan of peacock feathers means compassion. Chinese tradition says the same ,peacock that represents dignity, majesty and belonging to high society , there is a peacock feather was used as a sign of location , it is handed over, the emperor.
Christians, too, belonged to these birds with great respect , because the peacock 's tail resembles a halo , and the pattern on it similar to the eyes ,therefore this bird can be called all-seeing eye of the Church . Many cultures linked and associated still peacock with the supreme power , and is often accompanied by peacocks gods and goddesses .
These days , tattoo peacock and its value remained virtually unchanged , a tattoo symbolizes the symbol of natural beauty , bright colors ,diversity , the disclosure of human potential and the overall diversity of the world . Some use a peacock as a demonstration of narcissism symbol of vanity and striving to perfect the external beauty , a mismatch of internal and external human world.
But it is worth noting that such symbolism is more negative , it appeared much later ,in the original - in the ancient symbolism of the peacock was not like this . As a conclusion we can say that tattoo with pattern peacock suit extraordinary , fun and prone to risky behavior person . Also peacock tattoo will suit people who want to subordinate his life to the laws of maximum beauty and elegance .
Peacock tattoo designs and images