Polynesian tattoo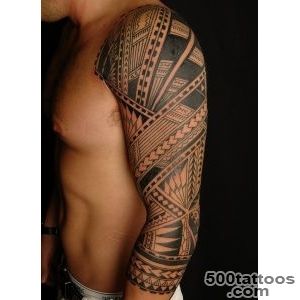 Incredibly beautiful are the Polynesian tattoos . Their history is perhaps the most ancient . The islands , which are hidden in the Pacific Ocean , tattoos were considered almost sacred , and to affix them belonged only to the priests . Tattooing was really mysterious ritual , rather than a simple , ordinary dyeing human body ,that allowed to form a valuable asset history of ancient Polynesia. Meaning wearable drawings deeply rooted in the past, in the rituals and traditions of Maori tribes .
All tattoos tell a human story , presented his personal qualities . Anyone could learn about the tribe and the kind of drawing holder ,his position in society and their behavior .
All the islands of Oceania tattooing was performed as a sacred ritual , and the right to decorate the body tattoos were only the most respected members of the tribe and the priests . Any sign on the tattoo has its importance and specific name .
In the image and style of Polynesian tattoos resembled pieces of woodcarving ,which is also considered the main illustrations of Maori life. The value figures determined by the form and content and application method assumed compliance with the energy meridians in the body, thereby helping to reveal the body's positive energy and block the dark principle . This shows a good knowledge of human anatomy .Women's and men's tattoos are radically different from each other .
Fanciful designs , stunning for its beauty , symmetry and clarity of lines is really striking. They convey the depth and uniqueness of Maori culture. Each tattoo is in compliance with its energy force , expresses an original conception of man and the world.It is worth noting that the Polynesian tattoos , despite the common motifs , have a wide variety of patterns.
All methods and instruments were similar to each other in the Polynesian islands. However, in New Zealand it tattooed body is not all , as it was instituted among the population of the archipelago . Because of the island temperatures often drop below zero,and people do not fully bared himself . It was therefore decided to tattoo the face , thighs , abdomen and buttocks . The person doing the drawing was untouchable , almost sacred .
If we talk about the values ​​of Polynesian tattoos , one of the most revered figure was caused during the initiation of young men and women , marking the entry into adulthood .This procedure was very painful , because the tattooed do not do needles , and the bit of bone albatross . According to the tool handle beaten with a hammer , making special skin incisions . If a person , after the ritual swelled mouth , the food was delivered into the body by special funnels .
As in ancient times ,reconstruction of Polynesian tattoos can not be called a rapid process . For their application requires a fair skill tattoo artist . Many domestic and foreign stars of show business are fans of the art of tattoo .
Polynesian tattoo designs and images