Rabbit tattoo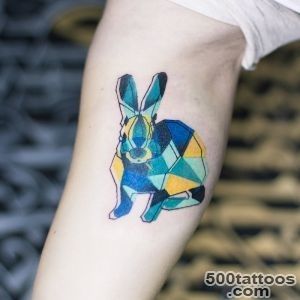 In different cultures tattoos hare (or rabbit) can be interpreted in different ways. In ancient India, were convinced that the hare - the personification of fertility in Japan - wisdom and cunning , England - intuition. USA endowed the image as a genuine hero, because as an animal , in the opinion of Americans , can trick to defeat the enemies .The Chinese rabbit - a symbol of good luck and renewal, youth and transition to something fundamentally new .
Sketch of tattoo hare executed in black and white and color versions. Apply image to any part of the body : arm , leg , back, chest , etc. . .
The most common value of the symbol - fertility,feminine and faithfulness . The animal is often associated with the moon , which affects the reproductive function . Therefore, in many cultures, women who dream of becoming pregnant , wearing a talisman in the form of a hare . In addition , he assisted in the complicated birth .
Sometimes the rabbit was considered a messenger for his ability to move quickly ,overcoming obstacles and confusing marks , thereby escaping from enemies - predators .
Also, there are conflicting descriptions .
So in one case, the value of tattoo bunny woman - sexy , free life style and swagger , and the other - on the contrary, the purity and tenderness .In some cases, the tattoo with the image may indicate homosexuality media .
In Western countries , this tattoo was associated with mysticism and magic ( according to the legend of this culture hare - assistant witches ) . But the animal's paws image has the function of protecting against the evil eye .In Christianity Bunny - Happy Easter sign and the rebirth of nature in spring. In Greece and Rome it was confident that it is a symbol of love . It is no accident in the pictures next to Cupid can see the rabbit .
Of course, in order to value the tattoo was read clearly and consistently , to choose his style . For example,when looking at the cartoon image comes into my head only the value associated with innocence and purity.
Very popular different rabbit pictures from the cartoon " Well, wait a minute ! " , A fairy tale about Alice and Roger Rabbit .
If the carrier has chosen «Playboy» logo - it is obvious that this man wanted to emphasize their sexuality .Therefore, the choice of style should be approached with great responsibility .
Rabbit tattoo designs and images