Russian tattoos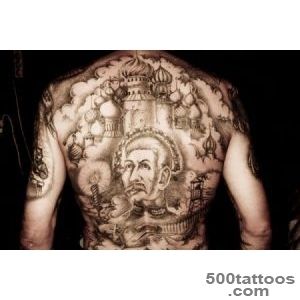 The interest in Russian culture is reflected in everything: movies, music, books, visual arts... and tattoos became popular in the Russian style.
Russian tattoos and znachenieRusskie tattoos and their meanings attracted more than all the loyal fans. Now, however, difficult to give an exact answer to the question,What were the tattoos of ancient Slavs : no evidence, except for rare mentions of tribal tattoos and tattoos of warriors, did not survive. And even then, it was a completely different kind of tattoos than modern : loaded them with needles and pungent concoctions that figures " etched " on the skin.So now the Russian style of tattoo formed in a new way, where being based on the patterns of ancient Slavs, Celts and Scythians. This unique combination has given rise to its own special, Russian style.
Russian tattoos and znachenieCherty and cuts, which were used by ancient Slavs not have survived, and the Scandinavian runes were taken as an alternative to,which, however, gave a different name and interpretation. To do a tattoo in Russian style, using runes, you need to know their interpretation, at least roughly, or instead of good character, carrying a light and harmony, you risk getting dark characters that belong to the gods, head of death, cold and failures.One of the most popular subjects are images of pagan gods for such a tattoo, whose names have not been lost for centuries and were not destroyed by time. We have survived such sacred to the ancient Slavic names like Mokosh ( Makosh ), Svarog, Perun, Dazhdbog, Semargl, Stribog, Yarila, Veles, Lada and Lelia.Preserved and the names of two of the Dark Gods, whose forces were afraid of the dark, but which used to be considered : Moran Mara ( Death ) and Chernobog, Bjelobog opponent.
Russian tattoos and znachenieK Unfortunately, we can not say with absolute certainty, is responsible for what those or other Gods, preserved only later to describe who said that,to primepru, Perun the Thunderer was the patron saint of soldiers, and the good Dazhdbog drove the Sun across the sky. On the other gods know even less, and more - to guess a huge reservoir of Slavic culture forever lost to future generations.
In general, Russian tattoos and their meaning are a tribute to the tradition,and call their Slavic real tattoos very difficult. However, this does not mean that such tattoos - bad, even quite the contrary : they show that the modern man is still interested in the history of his great nation.
In addition, the tattoo is a always a part of self-expression, and how to do it everyone chooses for themselves.
Russian tattoos designs and images