On the fingers tattoo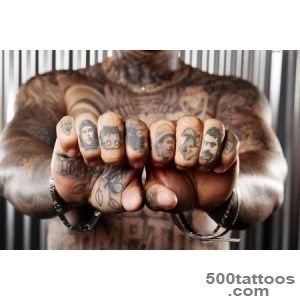 Tattoos on the fingers - an excellent option for those who can not be solved on a permanent label on the body. It is not as boring as a tattoo on a larger area of ​​skin , not beaten , it looks playful and original.
Usually this phrase in Latin that say something about the man , his priorities, values ​​, favorite things and just loved .This may be a short, simple word written filigree , and the detail of your appearance is extremely elegant and bright.
Although the wrong will not mention - Latin began to give way to more exotic languages ​​, ancient , for example , the Maya language . What matters is that you understand the essence of tattoo . For,like once joked Victoria Beckham : "My husband wanted to stuff my name in Chinese , but it turned out he had something like " fried rice " .
Interesting Tattoos
If you decide to fill a tattoo on the finger side , you can choose characterizing quotes - places to be enough . Many are doing so, while others still prefer pictures : treble clef ,feather , the symbol of infinity , a flower , an hourglass , the heart on the pin , etc.
Women's tattoos on the fingers
Women rarely get tattoos on the top and on all his fingers - it is the prerogative of men . They like the thin , neat , elegant lettering on one of the fingers . They are not immediately apparent , but if they have noticed , will want to see .It adds a mysterious possessor tattoos .
Often come to the master tattoo lovers with a request to make them the same tattoo . In this age of an exchange of rings began to give way exchange of tattoo , which is much harder to remove . And if you see a small stuffed anchor, probably , it signals about the same thing on someone's finger ,and as an engagement ring .
Is the procedure painful?
Usually people easily agree to a tattoo on his finger , including , and because we are sure - it will not hurt . And this attitude makes them quite easy to pass this way to beauty , because there is practically no psychological barrier . Indeed, talk about kakoy-the particular pain is not necessary - all very tolerant .
What you said about the tattoo on his fingers
The first is that you pay a lot of attention to detail . These people reveal themselves gradually , and in the other eye for the nuances of love . Perhaps you are not as brave and courageous as we would like , but a sensible prudence where something needs to be earlier qualitiesand to you it is inherent .
Most likely , you are responsible not promise how much in vain , are not afraid to face the truth and deal with the problem - for you are no trifles .
On the fingers tattoo designs and images