Army tattoos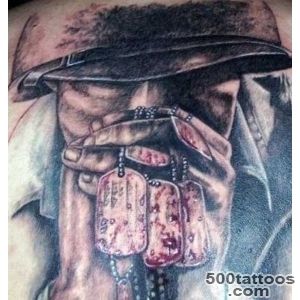 For men the army - a school of life . It is because of this tattoo is done with the army , they have become an integral part of man's life. It is the memory of locations , symbols of honor and courage , as well as the main difference is the guy from those who hang from the army. Most tattoos are a particular character,namely point to a military unit or simply served on the courage of the soldiers , their friendship. It is so widespread that it has become popular worldwide . They are a host of species.
Often you can find the image of a rocket or cartridge . And if the rocket is used in a certain form of troops , the patron -universal tattoo that suits any kind of troops . Often within the cartridge record date of demobilization .
Military tattoos are rarely colorful since that is usually applied not by professionals , but by the guys. Often used conventional phrase about loyalty to country , loyalty to friends and his troops .
MarinesFor Marine peculiar tattoo skull bandana , which is usually applied to the shoulder.
Not less popular anchor on a background of the globe . Normally before that it portrayed a dolphin jumping out and the tape with the signature of " marines " .
North Caucasus
For the guys who served in the North Caucasus, characterized by a tattoo with the image of a scorpion . Moreover ,if the sting is directed upwards , this indicates that the man took part in actual combat .
Fleet
To have served in the Northern Fleet , the symbol of a polar bear . For other regions - and anchored sailboat .
Intelligence service
The symbol of the intelligence was a tattoo bat .
Airborne
The symbol of airborne forces -parachute to the service location. You can also find a winged sword with a shield on which is depicted , it takes .
There is also a set of common tattoos. For example, " for you " , which symbolize the entire military service . They portrayed the eternal flame or spooks , who holds a knife in his teeth .
In general, the military tattoos are so diverse ,what to say about them can be long and hard . There are so many and each year more and more is added . The most popular tattoo Airborne. Almost all the soldiers put a tattoo in memory of service. Some men have a tradition to put a tattoo indicating the blood group. And in many armies in the world, it is even part of the duty.Often there were cases that such a tattoo saved the life of a soldier in battle.
Never army tattoo expire and will not be perceived negatively by other people , because the army - it's for all the saints. A tattoo is like the memory of those who the guy was there and those who did not come back from there , and not just for beauty .
Army tattoos designs and images