Bow tattoo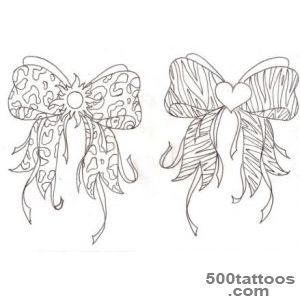 Tattoo bow nesomenno popular among women for their beauty and grace . Often bow tattoo sketch performed bright, colorful, with lots of different colors . Figure often applied to the back of the thigh , forearm , shoulder or lower back .
For centuries, people decorate their body in various inscriptions ,signs or drawings . Previously tattoos were peculiar only to men , as they showed their strength and masculinity . Now , in the modern world , many women and girls do tattoos in order to highlight the elegance of the figures and their individuality .
Even a small figure carries some meaning and increases self-esteem .By choosing a tattoo is to approach seriously and carefully. It is necessary to carefully examine the values ​​of the selected drawings, because they remain in the body throughout life . Place tattoo also need to select the right to hide the image from prying eyes when needed.
Women perceive the tattoo as a decoration ,so they choose the image of butterflies , crowns , birds , stars, flowers , hearts and ribbons often .
Tattoo " bow " is very popular among young girls . Let's see why.
Bow is a symbol of beauty and simplicity. It is often found on the clothes , shoes and jewelry , they decorate boxes and bags with gifts .Bows are always associated with something unusual and original.
Meaning tattoo " bow " does not carry deep philosophical sense , but only a small emotional color . Girls who choose bows to decorate their body , they want to show the femininity , grace , tenderness and freshness image.Also, a tattoo can be deciphered as a willingness to romantic adventure and love.
Sketch of tattoo bow can advise conservative and cautious natures , it fits perfectly into any woman's image . Tattoo " bow " has no negative connotations and can be located on any part of the body .Bow can be presented in various forms , sizes and colors , very often it is bright and colorful part of the main picture . Most girls prefer to ribbons on the wrist , on the neck under the hairline , on the ankle , or stomach .All tattoos are becoming more popular as a ring - and the bow is the best suited for the decoration of elegant female hand . Sometimes the bows can be duplicated on both hands or feet .
Tattoo bow accentuate femininity figure and looks attract males .
Bow tattoo designs and images