Peony tattoo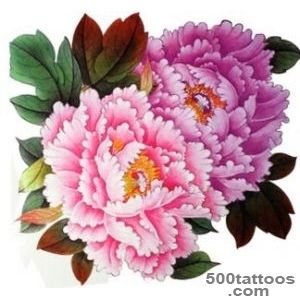 In Eastern culture the peony symbolizes the male principle, therefore traditional tattoo peony belongs to men. It is said that this flower oriental man as deeply symbolic and revered like a lotus, sakura, lily and chrysanthemum. Along with other flowers, peonies are a favorite subject in Chinese painting.Sketches of tattoos depicting peony are both black and white and color.
Meaning tattoo peony - that wealth, happiness, success, youth. Image of pions on the male body - not a new phenomenon, it has deep roots. So, we notorious samurai often applied to the body tattoos predatory animals : a fictional,and present.
At the same time close to the tigers, lions and dragons are often depicted peony. Strange neighborhood, whatever you say, however, it had some merit. It was believed that the beauty of peony flower restrains excessive aggression and authoritativeness posed by predators, it adds to the image balance.The Chinese give each other flowers such as the desire of wealth and well-being. It is noteworthy that the oriental tales often end with the fact that the protagonist gets into a garden of blooming peonies. This happens when it has reached the end of prosperity in its path.
In Japan, the peonies are presented only to those who truly love.From ancient times, this flower is a symbol of recognition of love. But in ancient Rome he embodied the pride. However, in many cultures peony bears a positive sense.
It is known that in the Eastern tradition peony identified with the emperor himself, and it nesluchayno.Lyudi long been noticed that it is very strong and hardy flower,in a sense, even untouchable, because it almost never gets sick and wasting away, it did not sit down bees and other nasekomye.Otsyuda apparently happens escheodno value tattoo peony - integrity, strength and endurance.
In Russia peonies were from China ; they brought Peter I. Flower immediately fell in love with the noble people,and soon established itself as their estate. So much so that the common people even nicknamed him " Pana flower." From such flowers make wonderful perfumes. With their petals taking baths, which were considered curative.
Despite the fact that the peony tattoo is considered a male character, it is often prick themselves and women. The point here is not so much the qualities of the flower,but in its true beauty, but she can not captivate.
In the female body peony looks no worse than men. This is due to the fact that the peony is not just used to paint - ably applying it can be really delicious. In addition, people tend to invest in their own tattoos, understandable only to their senses, so we can sayThat such a tattoo, if you wish, fit everyone.
Peony tattoo designs and images