Daisy tattoo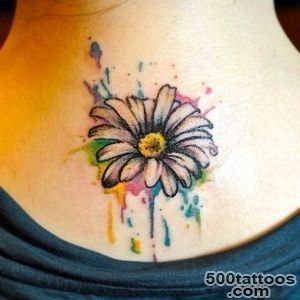 Tattoo with the image of chamomile common in romantic and tender of the fair sex. This flower embodies lightness, spontaneity and simplicity, as well as holders of sincerity and beauty.
Very popular this tattoo enjoys in Russia, moreover,some Western countries belong to the daisy traditional Russian symbols.
Greater dissemination of daisy tattoo gained in the countries of the former Soviet Union. Since ancient times, chamomile flower is a symbol of the sun, summer, purity, youth, loyalty, naivete, kindness and tenderness. In its symbolism, this flower is close to the chrysanthemum.Tattoo as a daisy symbolizes warmth, sunshine, joy, youth, as well as the love and openness. It is best to fit a similar tattoo simple and cheerful person who is open to dialogue and loyal to his family and friends. Chamomile is a symbol of the family, of peace and tranquility in it.
Tattoo with daisies symbolizes the summer,heat and sun. It carries the purity and love of true and faithful, youth, innocence, loving relationship.
Even in ancient Egypt was a symbol of Chamomile sun-god, and the ancient Germans, it was a gift of the supreme god - Odin and treated in sacred plants. The Slavs believed that chamomile gives the gift of prophecy and foresight,It helps in dark, especially in dark love.
It is believed that chamomile helps fight lung diseases, particularly tuberculosis, gives a clean and fresh breath, and yet it represents a big and strong family.
The daisy tattoo, it usually means the summer, heat, sun, open attitude towards people and eternal youth.It is well suited cheerful, open to people with a little bit naive and trusting attitude to life.
Daisy tattoo designs and images