Dolphin tattoo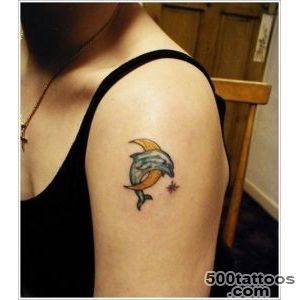 Dolphins have always been a mystery to people. On the one hand - just the animal inhabitants of the sea , and on the other - being endowed with intelligence, friendliness , playfulness , helping a person in critical situations . Perhaps that's why dolphin tattoos are often . Sketch of tattoo dolphin always looks playful and cute .Meaning dolphin tattoo can vary depending on the styling of the image, but in any case , this is one of the most powerful charms . Figure is applied usually on the lower leg , forearm , back and other body parts.
Often there is an image of a dolphin in Celtic style .In the culture of the Celts dolphin was popular for a long time . Watching him , you can see its friendly and cheerful character . Therefore, the dolphin became a symbol of joy and fun , freedom and positive mood .
In addition , dolphins as marine life , symbolize water. A,escorting ships in the sea voyages to unknown countries , carry a desire for a new life, the fulfillment of dreams and the transition from an old to a new life .
Tattoo with a dolphin - the choice of people who are able to get pleasure from life , not forgetting to help those in need . So , this is a good choice for those - who like the freedom and speed,seas .
In ancient Greece, the dolphin was a symbol of sensuality and love, because these animals , like people , have sex not only for procreation but for pleasure. Dionysos - the ancient Greek god of wine - paying in dolphins drunken sailors . And he was not averse to stay dolphin , while helping pilgrims to the island of Crete .Healing , motherhood , positive force of nature symbols of which represented a dolphin in ancient Egypt . The Indians saw dolphins in the energy , kindness and wisdom .
Dolphin , dressed in a sailor suit , tattoo symbolizes affiliation to the fleet owner . Pierced by a spear or chained - the symbol of the crucified Jesus . Christian symbol - a dolphin ,who leads the ship - is the Christ , led the Church .
A pair of dolphins represents Yin and Yang - the duality of nature. Currently, there are many stories about dolphins saving drowning or overboard the people. Therefore, the animals became the symbol of help in this difficult hour , salvation and hope for a bright future .Which would not have been a sketch of a dolphin tattoo , it must be unique and painted master just for you . Below are photos of tattoos with the image of a dolphin from different masters . Perhaps these photos will help you to inspire your future work .
Dolphin tattoo designs and images