Fire tattoo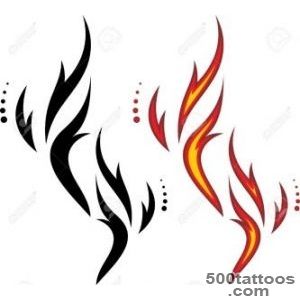 Tattoo fire as a natural element symbolizes destruction and passion. The image of fire in a candle or torch speaks of secret knowledge. Images of fire, just as the flame is full of internal energy. The choice of this sketch of tattoo fire speaks of flame that burns in the soul.
Fire - the eternal element that accompanies the life of man,source of energy for everyday life and the flames of hell, where the souls of sinners are burned. The basic meaning of the tattoo fire : destruction, passion, rebirth, secret knowledge.
Destruction
As the element of fire is uncontrollable. Like a flame that warms the hearth, the fire - a good start, a source of light and heat.Similarly, in the image of " wild " natural flame symbolizes the unbridled destruction. The flame, which a man subdued and limited scope of the candles, fire, torch - a sign of light and warmth, comfort, and hope.
Passion
Lit soul, burning cheeks, warm heart - all these phrases immediately clear, although it is quite abstract and impossible concept.The image of the heart, hugs the fire - a sign that can be interpreted as intolerable mental anguish or the everlasting burning and loyalty to their ideals.
degeneration
Fire empowers burn all evil and alien life. Place freed from evil purifying flames, ready for a new life.
Secret knowledgePrometheus Flames in philosophy has become a symbol of knowledge, learning and the world. Man, endowed with the light of knowledge can mark yourself familiar fire. But the fire has to be domesticated by man - the flame of a candle or a torch.
Fire has a mystical significance. All religions and mystical teachings recognize the crushing and cleansing power of fire.Tattoo fire is rarely used in its pure form, most fire complements the main image, giving it a whole new meaning. Fire in the tattoo is always a symbol of intensity, movement and power. For example, a car in flames, is furious uncontrolled and uncontrollable movement.
The flames that engulfed an object or an animal,It gives it in addition to the energy and motion of a negative sense - it is a destructive force, irresistible passion or flames of hell, which burst into everyday life. But the sketch of a tattoo with the element of fire always looks bright and attracts attention.
The value of fire in the tattoo depends on its location and related subjects.Burning heart - mental anguish.
Burning legs - a symbol of fast motion.
Flames in the groin - the irrepressible sexuality.
Animal flames - symbolizes aggression, rage.
The subject, in flames - symbolizes the taboo and depravity, communication with Hellfire.
The fire in a candle or torch - secret knowledge.The image of fire in the tattoo says about the fiery energy of the owner. Fire can mean burning soul ideals and infernal destructive passion.
Fire tattoo designs and images