Ladybug tattoo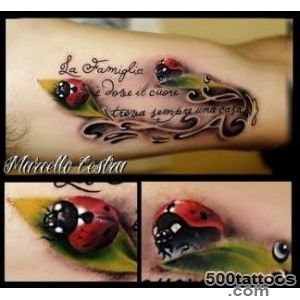 Image ladybird attracts many because of elegance, positive qualities that it causes, and small dimensions. Tattoos ladybug improvise with the elements of nature. For example, with the leaves or stem vines, and maybe even a butterfly or heart. The most common tattoo is done in red and black.The value of this tattoo is to carry its possessor health, happiness, love and fulfillment of cherished desires. Ladybird is a symbol of positive emotions, the embodiment of warmth and joy. Even in the open areas of the body like a tattoo looks very beautiful and impressive.
Tattoo Ladybug, first of all,is a powerful talisman, its strength depends on the number of spots on its back. So, one spot at the Ladybug will help in starting new businesses and pans, two points on the back of Ladybug will help to achieve harmony with oneself and the world, three points on the ladybug will help make the right decisions,but the seven- spot ladybird can give luck and happiness to its possessor.
Catholics Ladybird is a symbol of the Virgin Mary, or rather her cloak, as it symbolizes good luck and divine grace.
Very well, when Ladybug portrayed with a horseshoe or a four-leaf clover, it not only attracts good luck,but also love and sexual attraction of the opposite sex.
Ladybug tattoo designs and images