Ouroboros tattoo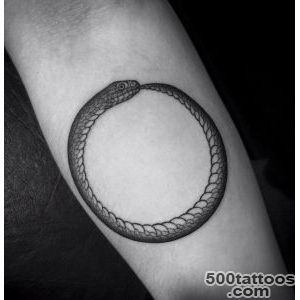 From the article , you'll learn about the importance urobros tattoo , the meaning and history of this ancient image , get acquainted with interesting facts on the subject . For those who have already decided for himself that he wants to go to a tattoo parlor and make yourself a tattoo pattern urobrosa , we offer two sections in our catalog with pictures ,which will help to create a unique picture or pick up something from the existing ones :
Tattoo - not just an image on the skin , it is also a reflection of the inner world of man. What kind of tattoo he chooses for themselves , says a lot - the nature, the views , aspirations , etc. Today there are many ideas for a tattoo .And they all have a meaning , a certain meaning .
One of the most common symbols used in a drawing for a tattoo is Ouroboros - coiled snake (sometimes the dragon ) that bites its own tail . In modern mythology, the snake - a symbol of wisdom , strength and power , as well as sexuality, mystery and unpredictability .Often the images of these animals are a symbol of rebirth ( physical and spiritual ) .
Ouroboros is an ancient symbol that was used in different cultures , so to establish the exact origin is difficult. One of the first such images were made in the East - ancient China and India . For example,Hindu mythology is the god mentioned as Sesa - snakes entwined around the turtle , which four elephants were located , propping up a ground.
In Western culture, the first such images date back to 1600 BC and were found in ancient Egypt . From there, this symbol has migrated to ancient Phoenicia ,where the deity turned to Janus , and later it became common among the Greeks , who gave it a name (οὐρά - « tail » + βορός - « eats " ) , it was used along with the phoenix as the personification of all in ancient Greece , it does not the end and the beginning . In the Scandinavian countries also used snake imagesit was Jörmungand - sea serpent , encircles a ground. Rock paintings snake folding in the ring and met the Aztecs .
It is known that every tattoo has its own energy that affects a person's life . So before you select a picture , you need to think about how to make it a positive and reassuring . If you have a bright personality, A strong and confident person , or want them to be , select the Ouroboros . Meaning tattoo is this: the personification of eternity , infinity, universe , life cycling . In addition, the Ouroboros is a symbol of the ongoing struggle constantly with himself - with his own weaknesses and vices .Such an image on the body may indicate a desire to live without limitations , without borders , as well as continuous development and progress . In theology this sign expresses unbounded and the inability of the divine knowledge, and in philosophy it is associated with immeasurable concepts such as space and time ,It expresses the infinity of nature and all its creatures .
Ouroboros as a symbol often used in mythology , religion , magic , psychology - the value tattoo urobros directly connected with it . So , it was an amulet , denoting the transformation of chemical elements in the philosopher's stone of medieval alchemists ,and in the XVIII century, it served as one of the main signs of masons and decorated a printing them , the Slavs ( in particular, Russian and Polish princes ) is the image used when creating tribal emblems . Today you can even meet modern technology with a similar pattern , for example, on http://a-techno.com.ua/182/285/459/296/ pagepresented excellent computer joysticks that can be decorated with various symbols. store assortment is dynamically updated with new acquisitions and the prices within the site - the most affordable .
Images Ouroboros is one of the most popular choices for tattoos . They are suitable for both men ,and women regardless of age and status. Can be applied to different parts of the body ( arms, legs , back, abdomen, chest , etc. ) . Tattoos with uroboros usually done in dark colors , but the figure could be half- light , as a symbol of yin - yang , which symbolize two opposite principles .Sometimes snakes depicted in the form of eight - the infinity symbol.
Ouroboros tattoo designs and images