Rose tattoo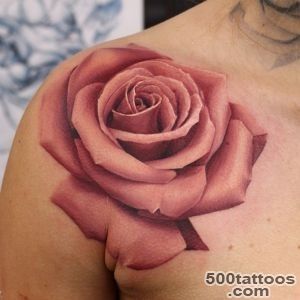 Tattoo with the image of a rose - one of the most popular. Sketch of tattoo rose choose both girls and representatives of the stronger sex. Flower rose - a symbol of pure love, it too is a tattoo with the image of a rose. Tattoo with the image of roses ( does not matter the size of the image color performance and location on the body), perhapsone of the most " loaded " symbols. Depending on the age and culture have changed the value of a rose tattoo.
Very interesting story in this tattoo : tattoo in the Middle Ages with the image of a rose was applied to prisoners, condemned to the death penalty.Another premise of the Middle Ages - the alchemists attributed the tattoo rose the value of liberation from earthly desires and the revival of the spirit after death. Over time, the value of a tattoo has changed dramatically : the loss of sense of impending doom, and the priority was the symbolism of love, chastity, purity and romance.This tattoo in European culture associated with the clean image of the Virgin Mary, it is sometimes called the Mystical Rose. Another religious ( Christian ) subtext tattoo flower scarlet rose with fallen petals associated with drops of blood of the crucified Jesus Christ.
Tattooed rose in the Land of the Rising Sun is a symbol of power,pride and tenderness. For the Chinese rose tattoo has a special meaning : prosperity and risky enjoyment. The second implication of this tattoo in the East : the embodiment of masculine and feminine, yin and yang. In ancient Egypt, the rose tattoo was associated with the goddess Isis, the patroness of femininity and motherhood.The value of a rose tattoo is so rich that there is a special meaning even the individual elements of the tattoo. Direct, unbroken stem of a flower - a symbol of resistance. The leaves are associated with joy. Bud - fame, popularity. Thorns - sadness and gloom.The combination is not until the end of blossoming rosebud and spikes ascribe such importance : fragile femininity and strength of courage. As a sketch of rose tattoo often choose a real photo of the flower.
Separately treated rose - colored tattoos. Rose white color symbolizes purity and innocence.Pink means infinite gratitude. Red rose is inextricably linked with passionate love. Blue Rose - a tattoo makes colorful personality, striving for the unattainable. Black Rose refers to such phenomena as death, sorrow and mysticism.
Rose tattoo designs and images