Fonts tattoo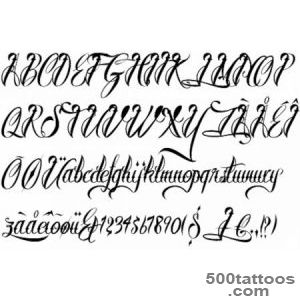 If you decide to make a tattoo with the inscription, you should understand all the nuances of this type of wearable designs. Today there are many different styles of tattoos, which allows everyone to find their own unique and unique sketch. When applying for tattoo phrases, aphorisms and other inscriptions and there is always room for creativity.First of all we are talking about fonts for tattoos.
Recently tattoo fonts are crucial, since it is from them depends largely on the final result. Today in Moscow, tattoo parlors, you can make an inscription, which will consist of one or more letters, and possible options with long sentences,having a deep philosophical meaning. In both cases, you can use a completely different tattoo fonts for labels. In other words, there are plenty of opportunities to translate their imagination and creativity.
On our site you have a great opportunity to understand the nuances of the selection of a font for a tattoo. You can also determine the ordersome ice and what style you can apply. To do this, you can take advantage of our service, where you can quickly and easily choose fonts tattoo online. This will greatly simplify the adoption of a final decision.
Popular destinations fonts for tattoos
The abundance of various styles and trends is not only opportunities,and difficulties in choosing. Among the large number of fonts it is quite difficult to find your best option, which will help to emphasize their individuality. The most popular destinations tattoo fonts include:
Calligraphic font. This area has a lot of options,which features a unique handwriting and style of tattoo masters.
Gothic approach. It may be a good readability, and rather complex for the perception of form. Many well-known rock bands are used for their logos this style.
Graffiti Style. The main feature is the combination of a tattoo fonts and illustrations in one whole.This popular street art is increasingly being used as a font for a tattoo.
Inscriptions with national characteristics. A variety of fonts are inherent in the Asian region, the Arab countries and the Slavic peoples, may vary as the features of written language and stylistic nuances.
The style of an old typewriter.Recently become fashionable labels that are applied to the effect of an old typewriter, which has certain disadvantages, so some letters have visual defects. This approach yields a unique result.
Having dealt in the main directions,you will be able to determine its own vision of the optimal font for tattoo lettering. Our online selection of fonts for tattoos facilitate this task twice. Also, you should get advice masters of our salon " Anatomy ", as sometimes a competent opinion on the part can play a decisive role.
Fonts tattoo designs and images