Mountains tattoo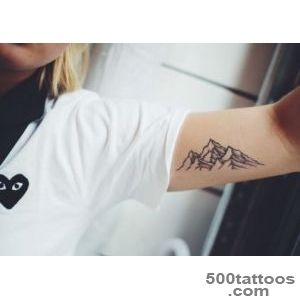 The most feared mountain in the world has always been considered Calvary . That's on top of her Jesus was crucified , so its image is found in tattoos . If someone has a tattoo with the Calvary , it may indicate at the bleakness of human attitudes to life . At heart, he said ,that all good things will still be useless and they have to be punished .
The darker the mountain , where the crucified people , the harder it will be to convey to the human hope for the future and faith in something good . If the mountain on the tattoo depicts ordinary , blooming and green , it can be a symbol of strength and masculinity .The desire of man to close relatives of his broad back , bring them stability .
Very often the topic of tattoos are the most famous mountain peaks . Then the value of the mountain gets tattoos patriotic hue. For the Japanese can be very pleased with the tattoo image of Mount Fuji , and for the Tibetans - native peaks of the Himalayas .Landscape wearable paintings are rare because they require the customer master of endurance and patience . Most often prefer something more simple and less massive . Sketch of tattoo with the image of mountains is performed both in color and in black and white . A below shows the photos of tattoos with the image of the mountains from different masters .
Mountains tattoo designs and images