Vikings tattoo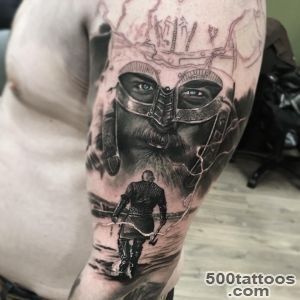 The peoples who inhabited Northern Europe , tagged your body symbolism , thus emphasizing different qualities of warriors ( strength, agility , courage ) . These people have a lot of traveling , establishing trade relations with other countries . It is not surprising ,that one of the most popular tattoo subjects Viking ships are : the Normans were remembered in history for their bravery and militancy . Overcoming the oceans and seas , they reached the coast of Iceland , Greenland and North America .
At the Viking has a very rich mythology and culture,which recently has become increasingly popular among lovers underwear painting . Perhaps this is the main reason that the pictures on the body depicting Normans symbols made ​​in virtually every professional tattoo salon .
THEMES AND SYMBOLS TATU Vikings
It is difficult to accurately convey the value of drawings ,who represented the northerners on their bodies . However, the total value of the Viking tattoos identify still possible : these tattoos emphasize human qualities such as courage , bravery , courage , etc.
Among the most popular themes :
drawings of ships, hinting at love Norman to study unconquered lands;Image of mighty warrior in armor with axes and swords , emphasizing the courage and bravery of the Scandinavians ;
Valkyrie drawings , pick up fallen soldiers from the battlefield and send them to Valhalla .
The Viking tattoos are common geometric shapes and symbols . The most common of them - swastikas , crosses , triangles , tridents ,and various ornaments, by which figures acquire the integrity and completeness.
WHERE stuffed TATU people of the north ?
One of the most common variants of the modern tattoo with Scandinavian themes - portrait drawing of a Viking on his shoulder . As a rule , the warrior is depicted with weapons (sword , ax )sometimes - in the armor or a helmet on his head. Sam pattern can be complemented by a swastika , the contour pattern , etc.
Also very popular are the ships of the image. Such patterns are applied mostly on the abdomen , back or arm . But there are also embodiments in which the tattoo distinct flows from one body part to another.This may be supplemented by tattooed images of birds , sea waves . etc. To create a strong artistic effect in the figure may be present elements of red, blue and others . Color . For example, the blue sky and the waves , and a traditional red-and- white flag of the Scandinavians .
Another option - a tattoo with the image of all kinds of monsters ,It is known from the mythology of northern peoples . This pattern , in a sense allegorical , it seems to reflect the power and strength of the Vikings . In addition, some archaeological excavations suggest that the Normans were decorated with pictures of monsters flags of their ships , so in the context of the plot to ship the image of the beast will also be relevant .And these are only some of the possible symbols of warlike Scandinavians ! It's time to look at a few examples .
Vikings tattoo designs and images