Unusual tattoos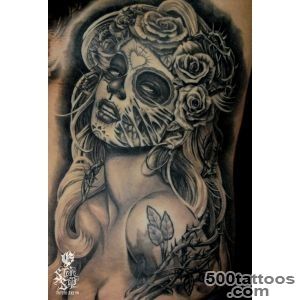 Recently, unusual tattoos enjoyed increasing popularity . This is due to the age-old desire of many people to creativity, to move away from conventional patterns . Thanks to the creativity tattoo artists list is regularly updated unusual tattoos .
The principal characteristics of unusual tattoos include:
- The application of theirAs a rule, certain parts of the body , which are usually as a platform for tattooing not used. These include: language ear lobe , the area under the nail , navel , chest , neck , eye area , etc.
- Tattooing in the form of creative drawings of different semantic orientation in three-dimensional forms (3D).
Among the topics ,which can deservedly be included in the list of unusual tattoos can be defined such as : Breakthrough otherworldly forces of parallel worlds ; representation of human body parts in the form of wood carving , elements of mechanics , such as those that occurred in the sensational at the time the film about the terminator ;realistic images of spiders , scorpions , butterflies , praying mantises , various animals and other creatures in 3D- space; view parts of the body in the form of elements unbuttoned clothing.
Interesting,that unusual tattoos recently also represented in the form of the human body nezashityh fragments of tissues after surgery intended either as parts of skinned arms and legs with protruding outward muscular system , often bones ( sight , of course, terrible , but fascinating ) .In an extension of this list may also be mentioned a tattoo with the image of : natural objects photowall type ; tattoos in three-dimensional space with the opening hole transitions in the panorama of mystical texts; piercing - cutting items ,protruding from the body and simulate the cutting of tissue with a realistic display of blood color; knightly armor of metal ; bloody bullet holes ; foreign body parts in places where their presence is possible (eyes on the hand , mouth open at the throat , the outer part of the brush , etc.)
display kostnomuscle tissue as a luminous ray film ; 'Hidden' brickwork , chips under the skin and others .
Of course , the owner of creative tattoos will never be deprived of human attention .
Unusual tattoos designs and images