Body art tattoo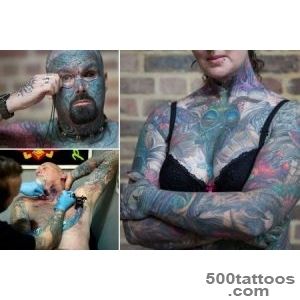 Body art in a literal translation from English means " body art " . This is a type of avant-garde art , in which the main object of art is the human body , and the content of the work is revealed by means of poses, gestures , inflicted on the body of drawings . Artists resort to various means to achieve the desired effect ,often it is painful to humans. For example , in one of the works of Marina Abramovic was introduced dance to exhaustion . To create one of the most famous of his works Denis Oppenheim lying with a book on his chest in the sun until the skin around his books are not tanned .
Topics painting and ways of talent for body art is not limited.The means used by artists , and have a great variety . Most often in the modern body art applied art gouache, special make-up or acrylic paints . Paints are applied to the body with a brush or fingers and toes , and sometimes even used the airbrush . Currently, in addition to the mural painting bodi-Artoo include bodipeynting and bindi , body piercing , tattooing and scarification . Let us consider in more detail each of these species .
A feature is the use of powdered bodipeyntinga or body lotions, which contain metallic pigments thick applied by brush or sponge to the skin. Look beautiful gold and bronze tones , creating the effect of sunburn .No less impressive looks bindi . For this type of body art is characterized by patterning on the body with sparkling stones and sequins of different colors and sizes. Before applying the skin should be degreased . Rhinestones for body art coat with special glue and carefully placed stones at the desired points of the body .Piercing nosaOdnoy of the oldest versions of body art is a tattoo . Figure appears on the skin during the introduction of the paint particles in the skin by an electric needle. When tattooing should strictly abide by all the rules of hygiene, to avoid blood infection and other complications .
Piercing - the most common form of bodi-art and one of the most simple . In any part of the body is a hole into which the decoration. Most often plays the role of decoration earring.
Scarification is also "the most " kind of body art : the most painful , barbaric and ambiguous . Body wounds are applied in order to obtain artistic scar .This type is not the most common, because such transfer is ready to torment not everyone .
Despite the serious differences in the campaigns , in media performance and how to get the picture , every kind of body art has a right to exist , because each of them is designed to beautify the body , select a person from the mass of others like him .
Body art tattoo designs and images