Horseshoe tattoo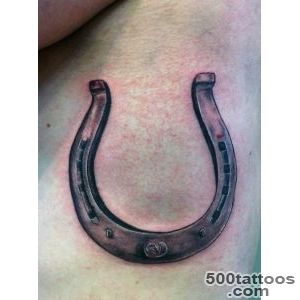 From time immemorial, to find a horseshoe on the road is considered a lucky omen. Nakhodka taken home and hung over the door , thereby attracting luck . Currently, a horseshoe on the road you will not find , so there is another way to find a mascot - to represent it for yourself with the help of a tattoo .
Meaning tattoo Horseshoe - luck , good luck , wealth and success .Tattoo with a horseshoe pattern is equally popular among both men and women .
Tattoo horseshoe value does not change depending on the image. Traditionally horseshoe horns stuffed up , reminding the cup or the nascent month. This tattoo represents happiness and abundance.Depicted ends down horseshoe drives away from his owner's misfortune . According to another interpretation of this image symbolizes the cup from which spilled all the troubles of life of the owner of the tattoo .
Of particular note is the horseshoe tattoo , made in the style of Old School.Figure in the black paint prick technique and attracts attention with its brilliance and thoroughness .
Options horseshoe image very much. Often combined with a horseshoe pattern elements such as four-leaf clover , star , flower , dice , etc.
Horseshoe tattoo designs and images