Koi carp tattoo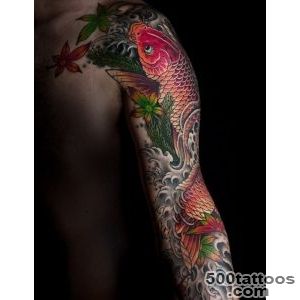 Japanese Tattoo Koi carp interesting for anyone who is interested in mythology and symbolism .
Koi Carp symbolizes the will to fight and challenge the obstacles on the path to success . These tattoos are like for young people who will stop at nothing for the sake of success.
Determined and practicality , they believe that they are bold enoughTo withstand the unknown risk.
Basic values ​​Tattoo Koi carp
Persistence in achieving goals
Commitment to success , regardless of the difficulties in their path
Vitality and stamina
Energy and inspiration
The nature and masculinity
Strength of will
Intellect and reason
Koi is known for its ability to swim against the current .In adverse conditions , the rest of the fish drifting. But not this one. Koi swim against the tide , like gaining strength in the face of adversity .
Koi do not give up, even when the waterfall is threatening to block the trip. It floats over obstacles , jumping over waterfalls and rapids . For this reason,their vitality and energy were the source of inspiration for countless generations . Japanese Tattoo Koi carp are used to show the strength of character and courage .
Koi are so associated with male positive qualities in the Japanese psyche , that this fish is now the mascot of the festival in honor of the Annual Boys' Day.The Japanese even now celebrate this day , the traditional colorful flags hang Koi that are made so that they resemble a fish and print its image for each son in the family . The number of flags adorning the house , show how much strength and abilities in the house to ward off enemies.
The legend of the koi
It is believedKoi that originated in a Chinese legend , " Dragon Gate " . According to this legend , Koi after descending the falls turns into a dragon . For the Chinese, the dragon is goodwill, good will and intellect (see . Dragon Tattoo . Some people use a dragon tattoo because she as well as Koi expresses strength .In addition to these values ​​, we must recognize that the tattoos of koi are one of the most vibrant and colorful , they tend to occupy a large part of the body , combined with other elements and motifs , such as tattoo peony (see . Peony tattoos ) or chrysanthemums (see . Tattoos chrysanthemum ) , or lotus (see . Tattoos lotus ) .
Koi carp tattoo designs and images