Rhino tattoo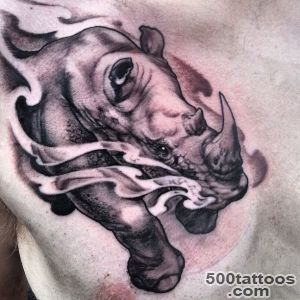 Rhino Tattoo totally devoid of grace , smooth lines and softness of any actions or movements . This is purely a man's tattoo, which means the animal force , pressure and constant combat readiness.
Before you decide on such a picture , you need to weigh everything and think a lot of times ,because a tattoo puts a person on the mark , and changes in any direction of his character.
At Rhino a lot of contrasts . He is passive in everyday life , but may exhibit a greater degree of activity and even aggression . In Rhino's energy is like a nuclear explosion , so far so good - it is peace itself ,but it's worth it just to see the danger or threat to his life , he became one of the most dangerous animals .
Rhino can learn to love life as it is, without any extra effort, and fluttering , just to see life and try to understand its hidden inner meaning , because so much of what is necessary to think over and reflect on in this life .
Rhino tattoo designs and images