Sheep tattoo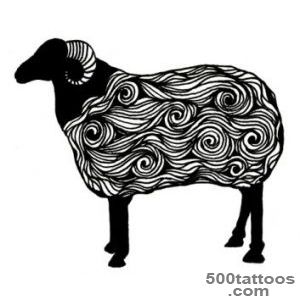 In the ordinary sense Sheep symbolizes stupidity and obedience to the difficulties in life, the narrowness of outlook and stubbornness without any reason.
But in the Western sense of the image of Sheep has a positive meaning - innocence, peace, patient nature and acceptance of both good and bad in life.Sheep black color also symbolizes the harmony in yourself and a willingness to make the necessary sacrifices for the sake of a loved one.
In Christian symbolism Sheep filled with great meaning. It refers to Christ the Savior, and everything else a flock of sheep - a guide who leads all flock to the Father.Sheep different peace-loving disposition, and harmonious existence in nature, it does not offend anyone and lead a quiet life.
Many nations Snake has been associated with magic, it gives sensing abilities, the ability to attract good luck, to give protection against the evil eye and spoilage of home magicso it can be an excellent talisman.
Sheep tattoo designs and images