Sleeve tattoos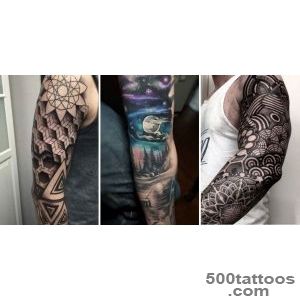 Tattoo sleeves - a figure that occupies large areas of hands from wrist to neck , shoulder . This is the long version and is very difficult for the technique. Usually " sleeves" are drawn in different colors , in a sketch interwoven many stories. Often used for background flame , water and swirls.There are tattoo sleeves and less : a quarter of the hand takes a picture from the shoulder to the elbow , not reaching it , or half of the hands will take the tattoo sleeve to the elbow from the top or bottom . However, the true connoisseurs of art tattoo tattoos make themselves fully mimic clothes .
In most cases , a sleeve tattoo done by men ,but there is no exception for women . The beautiful half of humanity contributes to the drawings floral motifs and foliage . Men can be used as elements of straight hard lines , Scandinavian , Celtic and Japanese patterns . There are also examples of the presence of animals and abstract pieces .
Top - sleeve tattoo on the Japanese theme ,since most symbolic links , only close to their heart , experience , culture and traditions of the eastern countries .
The most widely used are the representatives of the tattoo of alternative music : rap and rock culture . The original pattern covering the whole hand , looks really exclusive,demonstrating how professional tattoo artist and eccentric personality of its owner .
Koi can be called original and technically sophisticated model - sleeve tattoos . It symbolizes courage , because spawning overcomes a great distance against the current. The myth of carp says that in the end , after the fish reached the top ,She swam Heaven's Gate and turned into a dragon , flying in the unseen distance.
This tattoo says about the strength , courage , energy, and the search for their way of life . Usually figures are trying to make bright and colorful , adding to the composition deep blue water with shades of gold and orange .Dragons are also often used to create a sleeve - tattoo . In Japanese culture, the dragon and the honor is great , so it is identified with power , strength and omnipotence . For this sample body of a mythical animal is ideal , because the twisting and narrowing of the end allows the artist to smoothly transfer the pattern to the hands.Often there is one more composition - the head of the animal , dozing on his chest or shoulder .
Also popular sketch for - sleeve tattoos can be called a cherry tree branch . Cherry blossoms once a year, so the Japanese calendar begins from that point . Samurai believed that human life should be bright and brief as cherry blossoms , izwhich is why tattoos are so popular among girls . Sakura stretched well as half of the hands , and the whole hand . Remarkably , when the pattern extends from the neck to the wrists .
Unfortunately - sleeve tattoos are very expensive , since the application process requires a tremendous amount of resources and the master of time, but the result is worth it for sure .
Sleeve tattoos designs and images