Emblem tattoo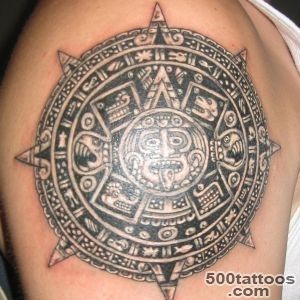 You have reviewed many albums, magazines, websites, thoroughly studied the basic directions in the tattoo, but have not found a pattern that reflects all the features of your complex, contradictory nature ? Did you have to give up the idea of ​​getting a tattoo ? Of course no.
The fact that a plurality of images are not kakomu-or a certain type of tattoo. They are diverse and united in groups rather arbitrary. There are no canons, strict traditions, once and for all fixed interpretations of classical and non-classical design. Color and monochrome, large and small, deeply symbolic and playful - these tattoos are always unique.Emblematic image can be completely arbitrary and depends only on your taste. In terms of character it speaks volumes about your personality, your worldview and outlook. As a sign of its own, your logo, you can choose any, even the most unexpected thing - a table, a vase, a tube of a cream, tin, moon,wood staircase. If you have what is called a " sharp little thing " or " cool pepper ", report it to your tattoo. Simple enough, realistic image of red hot peppers talk about you more eloquent than the most sophisticated and trendy tattoos.
Tattoo posters - all the funTattoo " star " can have different meanings : a sense of self- identity, chosenness, the belief in a dream, a desire to always be the center of attention, striving upward, and so on.
Special light sadness, lyrical melancholy is in the image of the cascade of cold blue stars, partially shaded and supplemented with ornaments of unpretentious flourishes. Far silver- azure stars sparkle in the night sky, but the morning hides them from view of people. Morning light paints the stars like black paint, but even through it they continue to flicker faintly. And we know that with the coming of the night the stars throw off the black cover and shine again.Often drawing stars and do not put a special symbolic meaning, and prick just because of their beauty or a successful tattoo design.
If you are at odds with their " inner child ", do yourself a tattoo with your favorite animated hero or a fairy-tale character. Come up with your own " Toon ".Is not it fascinating looks golden-haired little girl, gripped in the teeth favorite toy ?
Tattoo with the characters of fairy tales need not be comic or child. Many fairy tales, if you look at them from a different angle, are near and dear "adult" world. For example,familiar to us from childhood Malvina and Pierrot tie rather complicated relations, and their love is permeated with sadness and even tragedy. This vision of fairy-tale characters, you can very well transfer to the tattooing. Cold paints ( blue, black, purple, dark red ) will give a gloomy picture coloring,create a sense of hopelessness and internal fracture. Those characters performed in a realistic manner, on the one hand, make a dissonance in it and so is not a harmonious image, and on the other - eliminates the figure of the last features of fabulousness, childishness.
Tattoo art is alive and constantly evolving. Perhaps as you read these lines,some talented tattoo artist is developing a new unique style that tomorrow will blow the usual understanding of the tattoo and make even the most ardent opponents of underwear painting art to talk about it anyway.
Emblem tattoo designs and images